Brazillian SNES Console
Bruno Tondin has sent me pictures of a Brazillian Super NES, which was produced by Playtronics. Cheers to him for the pictures and information.
By: Evan G
Last updated: December 4, 2011
Playtronic was the only company in the world licensed to produce Super NES systems, as import laws made it prohibitively expensive for Nintendo to release the system in Brazil on their own. At a base level, the system is identical to a standard North American release. The fuse was repaired on the console, but is otherwise in perfect working order. Playtronic included its own serial code system, which it used on both consoles and games.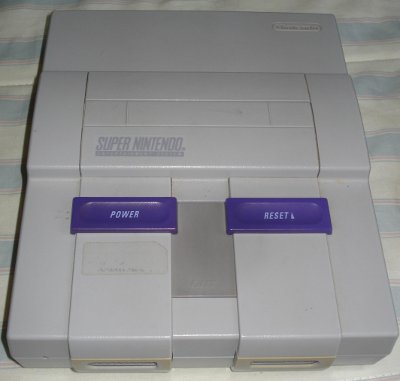 Front of the console. There appears to be a sticker below the power switch, but it has been worn off
Bottom of the console
Closeup of the sticker on the bottom
Playtronic serial code of the console (Playtronic Serial: 001156173ASL)
AC Adapter for the Brazillian SNES
Voltage switch on the AC Adapter
Text on the AC Adapter (serial code: SNSM-002(BRA))
Inside of the SNES with shields on
PCB of the Brazillian SNES (serial code: SNSM-CPU-GPM-02)
Sticker on the PCB (literally means "Produced in the Manaus Free Trade Zone" - the location in Brazil where import duties are significantly lower)
Back of the PCB
Serial code on the back of the PCB (Playtronic Serial: PCI029955ASL)
Replaced fuse on the board.
Here are some closeups of the chips:
| | |
| --- | --- |
| | |
| CPU (S-CPU B; 5A22-02; Version 2) | RAM (S-WRAM; Manufacturing date: 9531) |
| | |
| --- | --- |
| | |
| PPU1 (S-PPU1; 5C77-01; Version 1) | PPU1 (S-PPU2; 5C77-03; Version 3) |
| | |
| --- | --- |
| | |
| Sound chip (S-DSP A) | SMP (S-SMP) |
| | |
| --- | --- |
| | |
| Lockout chip (F411B; Manufacturing date: 9536) | Video encoder chip (S-ENC A; Manufacturing date: 9542) |