Bulls Vs. Lakers and the NBA Playoffs
Bulls vs. Lakers was an unreleased game by Electronic Arts. It appears to have been close to completion.
By: Evan G
Last updated: May 2, 2014
Bulls Vs. Lakers was shown at the Winter CES in 1992 by Electronic Arts. The game came out on the Genesis, but development must have been too slow, and it was canned in favour of focusing on the next instalment of the series (Bulls vs Blazers). Embarrassingly for Nintendo, they were going to give away this game as a prize in the November 1991 issue of Nintendo Power. The game must have been close to completion, as it had a prominent advertisement in the February 1992 issue of Gamepro, with complete box art and screenshot. Gamepro mentioned that it was to be released in April 1992.
Box art. Obviously a bit of a mock-up, considering the distorted Nintendo logo. (scanned by Retromags)
Screenshot of the game. From the Gamepro advertisement.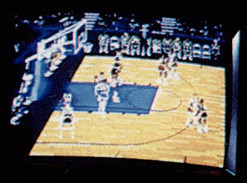 Another screenshot of the game, though this was a picture of the game shown on a TV screen. From the Gamepro advertisement.
Advertisement from the February 1992 issue of Gamepro (scanned by Retromags)
Contest prize from the November 1991 issue of Nintendo Power. At least you got a jacket... (scanned by Retromags)
Mention of the game in an overview of games shown at the 1992 Winter CES - April 1992 issue of Gamepro (scanned by Retromags)
Bibliography
Nintendo Power, Player's Poll Contest (given away as a prize), Publication date: November 1991, Volume: 30, Pages: 82-83
Nintendo Power, Pak Watch - CES Special, Publication date: March 1992, Volume: 34, Pages: 112-113