Playtronic Super NES games
Playtronic was a company in Brazil that was licensed to manufacture and distribute the NES and SNES systems. This article hopes to list all known Playtronic games.
Thanks to Bruno Tondin for the pictures of Mortal Kombat 3, Jefferson Oliveira for pictures of Mortal Kombat II, Doom and Street Fighter Alpha 2.
By: Evan G
Last updated: June 4, 2017
Playtronic was a company that manufactured and distributed the NES and SNES in Brazil, according to this page on Moby Games. Playtronic was the result of two companies (Manufatura de Brinquedos Estrela and Gradiente) to bring Nintendo to Brazil. They produced a Super NES with the local (Pal-M) video standard. The appearance of the SNES and carts are identical to standard US releases, and the console could play regular US SNES games.
Through my browsing of the Brazillian equivalent of Ebay, I was able to find many Playtronic games. One thing to note is that the games manufactured by Playtronic have labels that are different than their US equivalents in general. Rather than having a serial code, the labels have the Playtronic logo. The boxes also have a different appearance than their US equivalents. It is unknown exactly how many of these games went through a localization to Portuguese. (although Super Copa had Portuguese as an option even in the the standard North American release). Some releases appear to have a Playtronic branded box, but just the US release of the cart.
| | |
| --- | --- |
| | |
| A typical box from Brazil has the Playtronic logo rather than the Nintendo one. | Rather than having a serial code, Playtronic cart labels simply have the Playtronic logo |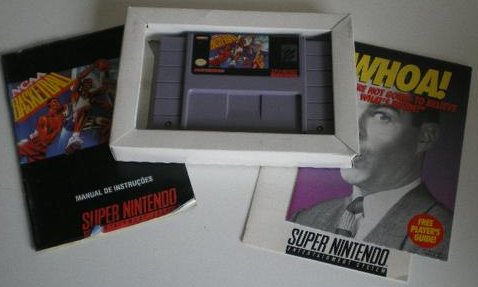 The inserts that came with the games were pretty similar to the standard North American releases, except the manual is in Portuguese. Event the Nintendo Power advertisement is in English!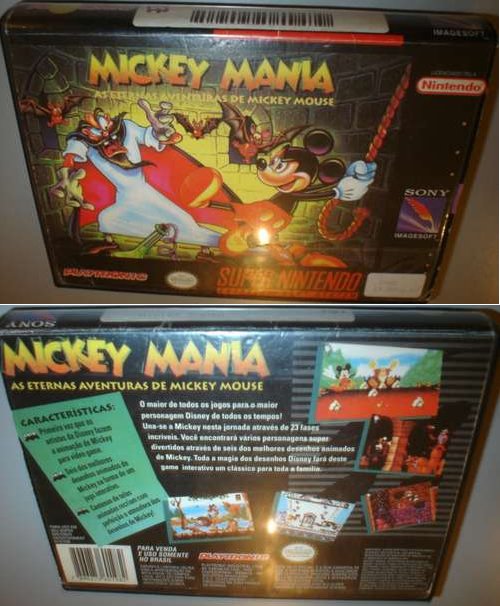 On the whole, the game boxes are similar to standard North American releases, except that everything is in Portuguese!
Later releases included a content rating, similar to the ESRB
The Super NES system looks pretty similar to what you would find with a North American system. Except that it is in PAL-M
The Playtronic carts did not have a glossy label like most US snes games, and are similar to later "Made in Mexico" games. On the back of the cart is a Playtronic specific serial code.
Mortal Kombat 3 label
Back of the Mortal Kombat 3 cart. The game has a Portuguese language warning label, as well as a Playtronic serial number (010095397A60)
Despite being produced in Brazil, the PCBs are identical to standard US releases.
Thanks to Monge Cravos and posters from the Brazillian NES fansite NES Archive, there is now a good list of games released in Brazil by Playtronic. If you want to see the original thread, click here. All bold games are confirmed with a scan or photo (links below list)
A Ilha Da Garganta Cortada (Cutthroat Island)
Aero the Acrobat
Aladdin
Alien 3
Animaniacs
Ardy Lightfoot
Barbie Super Model
Battleclash
Beethoven
Blackthorne
Boxing The Legends of the Ring
Bubsy
Castlevania Dracula X
Daffy Duck: Marvin Missions
Donkey Kong Country
Donkey Kong Country 2
Donkey Kong Country 3
Doom
Dragon: The Bruce Lee Story
F-Zero
Fifa 98: A Caminho Da Copa (Road to the World Cup)
Fifa soccer 97
Gaguinho (Porky Pig's Haunted Holiday)
Harley's Humongous Adventure
Incantation
International Superstar soccer
International Superstar soccer Deluxe
Jurassic Park
Jurassic Park - Part 2
Killer Instinct
Kirby's Avalanche
Kirby's Dream Course
Kirby's Dream Land 3
Kirby's Super Star
Kyle Pettys no Fear Racing
A Lenda De Zelda: Um Elo Com O Passado (The Legend of Zelda: a Link to the Past)
The Magical Quest Starring Mickey Mouse
Mario Paint
Maui Mallard in Cold Shadow
Megaman X
Megaman X2
Michael Jordan: Chaos in the Windy City
Mickey Mania
Mickey's Ultimate Challenge
Mogli, O Menino Lobo (The Jungle Book)
Mortal Kombat
Mortal Kombat II
Mortal Kombat 3
N.C.A.A Basketball
NBA Hang Time
NHL Stanley Cup
Pilotwings
Pitfall - The Mayan Adventure
Rei Leao (Lion King)
Road Runner's: Death Valley Rally
Rock 'N Roll Racing
Rocky Rodent
Samurai Shodown
Scooby Doo Mystery
Sim City
Spider-Man Maximum Carnage
Spider-Man Venom - Separation Anxiety
Star Fox
Street Fighter II - The World Warrior
Street Fighter II Turbo
Street Fighter Alpha 2
Street Racer
Stunt Race FX
Super Battleship
Super Buster Bros.
Super Copa
Super Game Boy
Super Ghouls and Ghosts
Super Mario All-Stars
Super Mario Kart
Super Mario RPG
Super Mario World
Super Mario World 2: Yoshi`s Island
Super Metroid
Super O Retorno de Jedi (Super Return of the Jedi)
Super R-Type
Super Soccer
Super Star Wars
Super Street Fighter 2
Super Tennis
Taz-Mania
Teenage Mutant Ninja Turtles: Tournament Fighters
Tetris & Dr. Mario
Tetris Attack
Caçada ao Outubro vermelho (The Hunt For Red October)
Tinstar
Tom and Jerry
Top Gear
Top Gear 3000
Total Carnage *
True Lies
Ultimate Mortal Kombat 3
Uniracers
Vegas Stakes
Warlock
We're Back
World Heroes
Worldwide Soccer (equivalent to Tony Meola's Sidekicks Soccer?)
X-Men: Mutant Apocalypse
Yoshi's Safari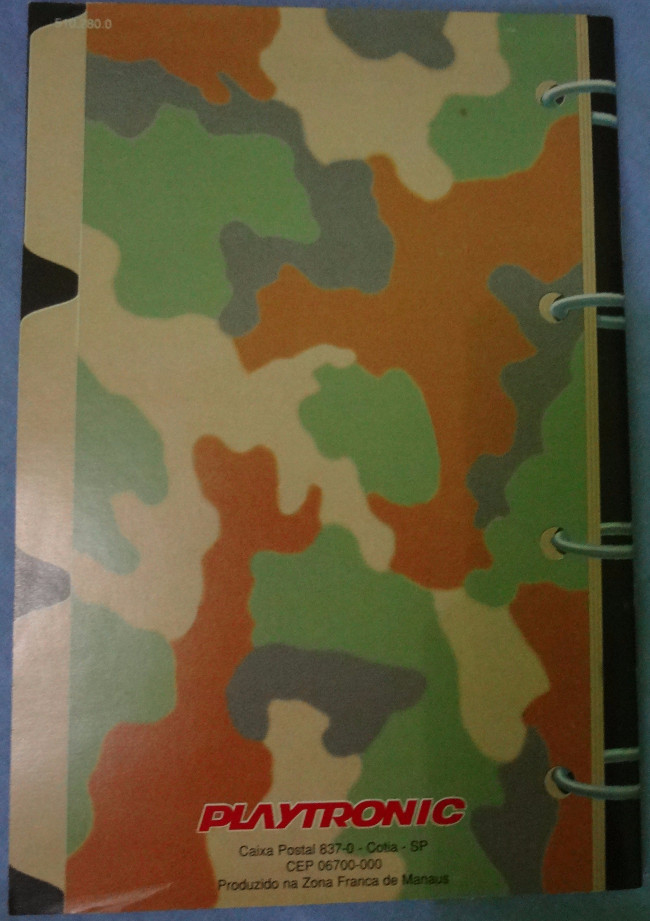 Playtronic promotional "binder". Image courtesy of Jefferson Oliveira.
Scans