Tom & Jerry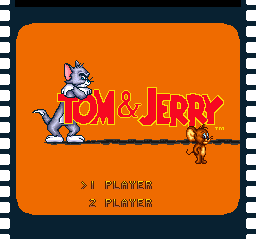 This is a near final prototype of Tom & Jerry.
By: Evan G
Last updated: May 29, 2021
This prototype is part of a collection of loose EPROMs recovered by the Video Game History Foundation on behalf of an anonymous collector. This lot contained prototypes from various systems including Game Boy, Mega Drive/Genesis, SNES, Game Gear, 32X, NES, Turbo-Grafx 16, Atari XE and Master System. The prototypes for other systems will be released on other sites, such as Hidden Palace and SMS Power.
There isn't much to say with this one. Though the binary differs a fair amount from the final version of the game, a side-by-side playthrough of the first two levels did not reveal any visual differences. What little text there is in the binary is identical to the final version, including the fragment of text from The Hunt for Red October that was noted by TCRF.